Visitors to this page:



Check it out...
Limited quantities remain of the "Lesley" double LP, in original matrix pressing, recorded and engineered by David Manley of VTL and Manley Labs fame. From the start, Manley insisted on his best-shot effort in all production, recording, and mastering aspects. The idea was to produce an absolute reference recording, without any technical concessions. Only purist recording techniques were used, with all music played "live" and captured straight onto two stereo tracks. Not only was the recording chain all tube, but it was entirely designed by David Manley - including a custom version of his Reference Gold stereo condenser microphone. Destined to become a classic Collector's prize! The most dynamic, natural recording of female voice on the market, "Lesley" is used as a "reference" by industry professionals world wide. No compression whatsoever! Caution: many systems are unable to handle the wide dynamics of Lesley's voice.
Check it out...
---
IT'S HERE!
* Secure, encrypted credit card ordering of our fine music products and loudspeaker kits

* Real-Audio sound clips of our music
---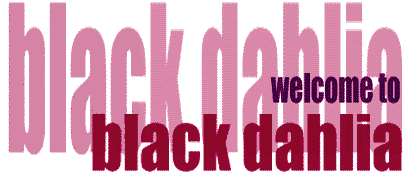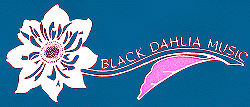 Try out our Listening Room!
Sample the unique, natural sound, of
Black Dahlia Music

Test Your Musical IQ:
Click here to take the "Lesley Test!"


The critics rave about the Samadhi Acoustics Magic Cube Loudspeaker:
Peter Breuninger, Listener Magazine (Vol. 5, No.1): "These guys back-fill, front-fill, and side-fill a whole room with a huge soundspace that captures the essence of each instrument and ensemble. The pace is medium, the color is golden, and the music is rich. These are great speakers, and for apartment dwellers or surround sound aficionados the Magic Cubes may just be the winning ticket: most sound from the least package."

Sherman Hong, audioMUSINGS Magazine, Issue.8, 9/99: "Overall, I'm beyond amazement at the Samadhis. For me, the Cubes set a new criterion for mini-monitors. Genuinely surprising were their life-size presentation, suave synchronization, and their fabulous vanishing act, in addition to the bass magnitude. ...Don't let their size deter you. As with most things in life, more is not always better."

Designed by Dick Olsher and manufactured by Samadhi Acoustics, Ltd., the Magic Cubetm represents the ideal solution for home theater systems. It is also ideally suited for musical enjoyment in small listening rooms. The Magic Cube is capable of producing a wide and spacious soundstage even when located in the corners of a room.

Ideal for Home Theater applications!
Read all about it!
Positive Feedback Magazine Raves about the Samadhi Magic Cube!

Now an independent review of the Samadhi Acoustics Ichiban is online as well!
check it out...
J. Peter Moncrieff writes about the Ichiban and Samadhi's CBAE Technology
BLACK DAHLIA AUDIO PAGES
TABLE OF CONTENTS
© Daniel Olsher & Joan Doll
For
Black Dahlia Acoustics, Ltd.
PO Box 4940
Los Alamos, NM 87544
Tel/Fax (505) 672-0333
Last updated: May 25, 2003