Jazz Me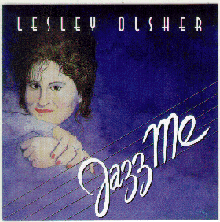 David Manley's recording masterpiece, "Lesley ", sold out on CD worldwide.
It is now available again on compact disc.
Re-mastered from the original analog master tapes by Eddy Schreyer at the Oasis Mastering Lab, Jazz Me comes even closer to capturing the magic, sparkle, and dynamics of the original happening.
"This album is highly suited for audiophiles... It is recorded live without extra editing, so the degree of purity is high and the clarity is first rate. ...Lesley Olsher is ...a very talented jazz vocalist...tone of voice is high, sharp and sensational. ...Black Dahlia Music uses a wide recording space that provides the impression of a stage performance...
Moon Kyu Hwang, Audio & Record Magazine, Vol. 102, 2001
South Korea
"A new type of pure and spiritual pop CD; sweet and beautiful music. ...The album features unbeatable three-dimensional feel, incomparable studio, and unlimited space. ...Real vocalist, real voice, and real recording; the degee of reality has exceeded any reproduction."
Audiophile no, 132, March 1997
Hong Kong
"The acoustics of Jazz Me can reach space beyond the walls, and it is unbounded by the speakers. More importantly the sound is so crystalline clear...
Yingli Lee, Hi Fi Reviews no. 130, March 1997
Hong Kong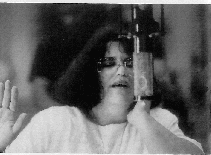 Lesley at the microphone

The most dynamic recording of female voice on the market, this recording has been prized by audiophiles and industry professionals worldwide as a true reference. Please enjoy the sound samples in ourListening Room;click herefor ordering information.