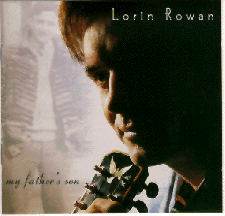 Lorin Rowan: My Father's Son
Lorin is the winner of the 1996 Tamalpas award, given during the Mill Valley Music Association's second annual presentation. This award is given to hometown musicians for outstanding contributions to the city's musical heritage.
Lorin Rowan has performed & recorded with his brothers Peter & Chris, Jerry Garcia, members of The Grateful Dead, David Grisman, Stephan Grappelli, Richard Greene, Jim Keltner and many others.
Lorin's song "Soldier of the Cross" is the title cut of Ricky Skaggs' Grammy Winning Gospel/Bluegrass CD.
Relix Magazine Raves....
My Father's Son (Black Dahlia) is the first solo album by Lorin Rowan of Rowan Brothers' fame. It's a joyous collection of upbeat country-rock with a world beat flair. Songs such as the reflective "Moment In The Sun" and the poignant title cut are standouts. In the latter, he is joined by brothers Peter and Chris who provide sweet harmonies. Equally impressive is the moody slide-driven "Follow Your Heart," the Beatlesque "Something To Believe In" and the haunting "Road Less Traveled." If you've enjoyed any of the Rowan's albums, this is a must.
Relix Magazine, June 1996
"Lorin Rowan's My Father's Son is most assuredly an audiophile recording...My Father's Son delivers the kind of exemplary sonics you'd expect from that pedigree."
Wayne Donnelly, Fi Magazine Feb 1998
To listen, click here. To order,click here.